Cushioned Ball Mounts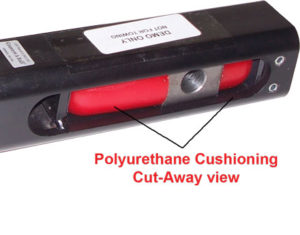 Acts as a shock absorber, effective in reducing bounce and rhythmic vibrations. Protects the towing vehicle's driveline, hitch assembly and trailer contents. Available standard in 2", 4", 6" , 8", 10" and 12" Drops. Reversible for use as a riser. Pictured at rights is a cutaway of the shank revealing the polyurethane cushions.
AM-SC series hitch bars are designed with a 1" Hole for 1" diameter ball shanks. Smaller diameter shanks must be installed with an appropriate reducer bushing.
Regular Duty for 2 in. Receiver Tube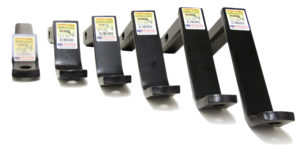 RATINGS 2", 4", 6" , 8" DROP
• 10,000 pounds GTVW (Gross Towed Vehicle Weight)
• 2,000 pounds MTW (Maximum Tongue Weight)
RATINGS 10" DROP
• 8,000 pounds GTVW (Gross Towed Vehicle Weight)
• 2,000 pounds MTW (Maximum Tongue Weight)
RATINGS 12" DROP
• 7,000 pounds GTVW (Gross Towed Vehicle Weight)
• 2,000 pounds MTW (Maximum Tongue Weight)
Heavy Duty for 2 in. Receiver Tube

Laminated cushioned ball mount is rated at 14,000+ lbs. Shank is 2"x2" with 1-1/4" ball mount hole.Smaller diameter shanks must be installed with an appropriate reducer bushing.
RATINGS 2", 4", 6" DROP
• 14,000 pounds GTVW (Gross Towed Vehicle Weight)
• 2,000 pounds MTW (Maximum Tongue Weight)
Super Duty for 2-1/2 in. Receiver Tube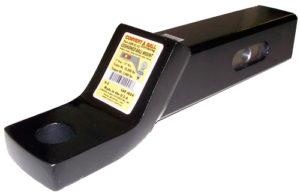 A new class in strength and durability, this cushioned ball mount is designed to fit the 2-1/2" receiver hitches WITHOUT an adapter sleeve. Shank is 2-1/2"x2-1/2" with 1-1/4" ball mount hole. Smaller diameter shanks must be installed with an appropriate reducer bushing.
RATINGS 2", 4", 6" DROP
• 18,000 pounds GTVW (Gross Towed Vehicle Weight)
• 2,000 pounds MTW (Maximum Tongue Weight)